Wisconsin NRHS is a chapter of the National Railway Historical Society.
The NRHS was founded in 1935 by a group of rail historians. It has since grown from 40 founding members to include thousands of men and women of all ages and professions in every state and many foreign countries, making it the nation's largest rail preservation and historical society. More information about NRHS may be found at www.nrhs.com.
The Wisconsin Chapter was founded in 1950. Our purpose is to gather, preserve and disseminate information, both historic and current, pertaining to railroading in Wisconsin and the Upper Midwest.
The chapter holds membership meetings on the the first Friday evening of most months in Fox Point, just north of Milwaukee. Meeting programs are presented by leading local railroad historians, photographers, enthusiasts, and people involved with the railroad industry. Meetings are always open to the public, and no admission fee is charged.
Bookmark the chapter's YouTube channel (youtube.com/@NRHSWis) and follow us on Facebook.
---
Wisconsin Chapter meetings are held on the first Friday of every month (except July & August), at 7:30 p.m., in the lower level meeting room of the North Shore Congregational Church, 7330 North Santa Monica Boulevard in Fox Point, Wisconsin. Click here for a Bing map and directions.
Our meetings are always open to members and anyone who has an interest in railroad history or today's railroad operations. No admission fee is charged. If you find yourself aligned with the goals of the chapter, please consider joining.
During the coronavirus pandemic, we held our meetings remotely, online. We continue to stream our meetings via Zoom for the benefit of anyone who cannot attend in-person. To be advised of Zoom connection information, and to receive occasional chapter updates, sign up for our email announcements:
---
Upcoming meetings:
Friday, February 3, 2023, 7:30 PM CST - Harry Evans photos from the Lake States Railway Historical Association collection
Paul Swanson, from the Lake States Railway Historical Assocation, will present notable photos from the Association's archive. Photography by the late Harry Evans (a longtime Wisconsin Chapter member) will be featured prominently.

Harry Evans (1943-2022) grew up in Winthrop Harbor, Illinois. With frequent rides on his bike to swim in Lake Michigan, he would stop at the railroad tracks to watch many locomotives pass by with trains. In short time, the C&NW became his favorite railroad. He was always interested in photography. As an eighth grade graduation present, his uncle gave him a used 35mm Voightlander camera. Thanks to an older brother, at the age of 14, his first railroad subject was a Nickel Plate double-header mainline steam freight roaring through Knox, Indiana in 1957. "It changed my life," he reflects. From that moment on he was hooked on trains and model railroading. He traveled with his brother in search of the last of steam in the Midwest, including capturing the last gasp of DM&IR during the steel strike in 1959, chasing the GTW in 1960, and western narrow gauge in 1961. His brother soon lost interest with the assimilation of diesels but Harry carried on documenting C&NW, MILW, CB&Q, EJ&E, the North Shore and many others on Kodachrome and Ektachrome film through his college years 1961-65 in Iowa. He continued on throughout the Midwest, expanding to Canada and Europe on occasion. During 1965-69 he worked in the Freight Traffic and Marketing Department at C&NW's 400 West Madison Street headquarters in Chicago. Harry returned to photography in the 1980s, eventually converting to all digital. In 2022, Harry selected Lake States Railway Historical Association to receive and preserve his life's work of railroad photography. LSRHA has scanned about 6,000 35mm slides concentrated on his pre-1990 era.

Founded in 2006, Lake States Railway Historical Association (LSRHA) is a 501(c)(3) Not-for-Profit climate-controlled secure archive storage and research facility located at Baraboo, Wisconsin. A membership-based organization, LSRHA maintains a collection of over 1 million photo images, 100,000 technical drawings, and numerous paper artifacts such as timetables, company and trade publications, track charts, equipment diagrams, Official Railway Guides and more. Over 85,000 photos and 500 drawings are available for viewing at their on-line photo archive. More information can be found at www.lsrha.org.
North Shore cars inside CNS&M's Harrison Street Shops, Milwaukee, 1961. Photo by Harry Evans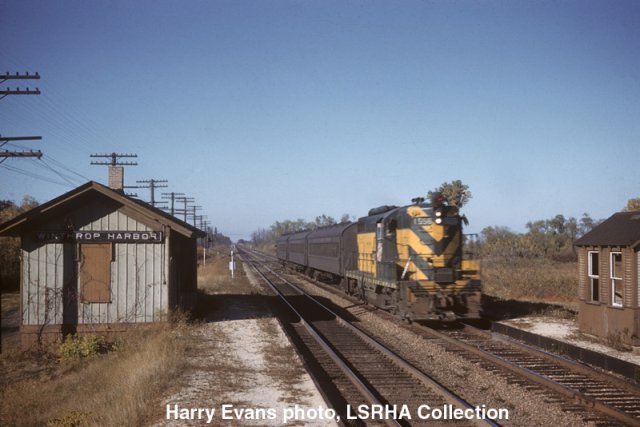 Chicago & North Western commuter train passing Winthrop Harbor, 1958. Photo by Harry Evans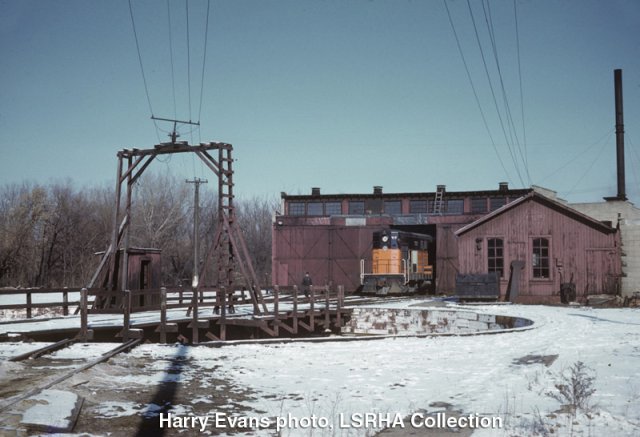 Milwaukee Road Fairbanks Morse locomotive at South Beloit, Illinois, 1957. Photo by Harry Evans
If you are able, please attend in person. Those who cannot are encouraged to download the latest version of Zoom software to their computers (or tablets, or smartphones) to attend virtually. Zoom connection info will be sent to members and others on our mailing list a few days before the meeting. Thank you.
---
Friday, March 3, 2023, 7:30 PM CST - On the Eve of Staggers: Some Midwest Roads in the Late 1970s, presented by Richard Koenig
Let's let Mr. Koenig talk about the program: "In 2010 or so, in preparation for a sabbatical, I had the notion of documenting the first transcontinental railroad for the sesquicentennial of the Golden Spike. That project led me to dig through my archive for rail subjects—as I had photographed railroads in my teens. This presentation will be a survey of that production: what I saw along the tracks in the latter half of the seventies.
"It was an interesting time in the rail industry: class I railroads still existed in a wide variety, a good number of first-generation diesels continued to roam the rails, and many of the routes where I photographed trains in revenue service have since been abandoned and nearly wiped from the face of the earth entirely.
"I begin with the two railroads that intersected in my hometown of Bloomington, Indiana: the modern Illinois Central line to Indianapolis, finished in 1906, and the older Louisville & Nashville, former Monon, which was built during the mid-19th century. I then will broaden the scope somewhat to illustrate a few other railroads of the Midwest during this pivotal time period, just prior to the Staggers Act."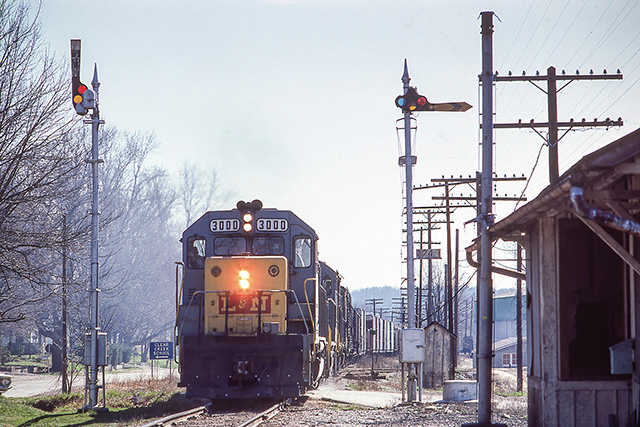 Class Unit: Louisville & Nashville number 3000, the GP40 class unit, leads a train north on the former Monon at Clear Creek, Indiana. The locomotive was built for the road in October of 1966. This is late winter or early spring, which provides back-light that illuminates the colored lenses of the semaphores located here by the small frame depot, which is out-of-service by this time. The train will soon be at McDoel yard just south of Bloomington. Photo by Richard Koenig; March 6,1976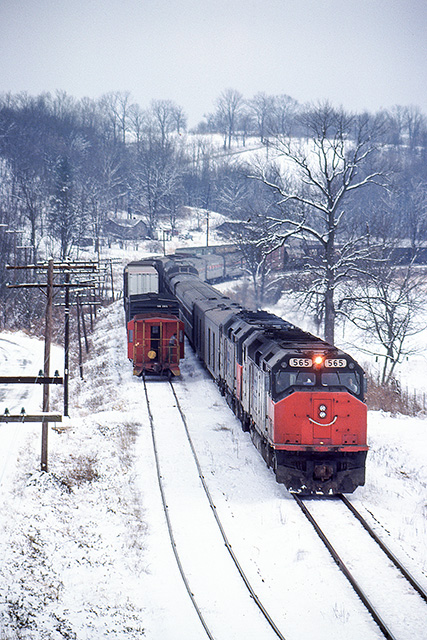 Meet at Thornton: This is a northbound Amtrak Floridian on the Louisville & Nashville, former Monon. I don't know how long the siding is, but I imagine the southbound freight may have had to "saw" through for the passenger train; the location is the tiny burg known as Peerless. I realize now that I must have climbed up the semaphore at the north end of the siding for this angle. Photo by Richard Koenig; January 5, 1977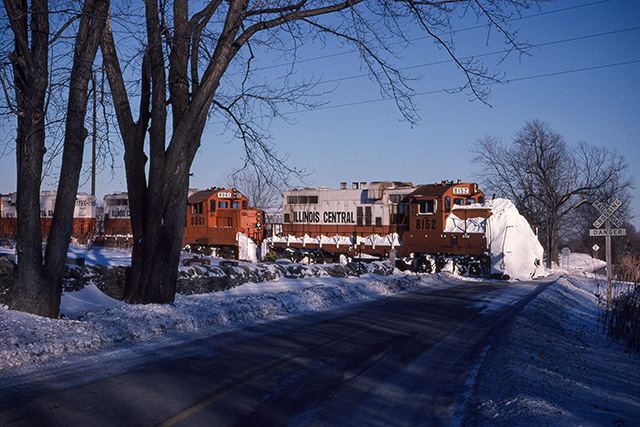 Mt. Gilead Road: In January of 1977, the Illinois Central Gulf ran a train southward out of Indianapolis. While some cars went along for the ride, I feel that the true goal of the movement was to clear the cuts of snow. This image was taken along Illinois Central's so-called "Hi-Dry" line—the nick-name derived from its high bridges and fills. We're at Mt. Gilead Road, northeast of Bloomington, Indiana. Photo by Richard Koenig; January 29, 1977
This program will be presented remotely, via Zoom. Members in the Fox Point area may attend at our usual meeting location. Zoom connection info will be sent to members and others on our mailing list a few days before the meeting. Thank you.
---