Wisconsin NRHS is a chapter of the National Railway Historical Society.
The NRHS was founded in 1935 by a group of rail historians. It has since grown from 40 founding members to include thousands of men and women of all ages and professions in every state and many foreign countries, making it the nation's largest rail preservation and historical society. More information about NRHS may be found at www.nrhs.com.
The Wisconsin Chapter was founded in 1950. Our purpose is to gather, preserve and disseminate information, both historic and current, pertaining to railroading in Wisconsin and the Upper Midwest.
The chapter holds membership meetings on the the first Friday evening of most months in Fox Point, just north of Milwaukee. Meeting programs are presented by leading local railroad historians, photographers, enthusiasts, and people involved with the railroad industry. Meetings are always open to the public, and no admission fee is charged. If you find yourself aligned with the goals of the chapter, please consider joining.
Bookmark the chapter's YouTube channel (youtube.com/@NRHSWis) and follow us on Facebook.
---
Wisconsin Chapter meetings are held on the first Friday of every month (except July & August), at 7:30 p.m., in the lower level meeting room of the North Shore Congregational Church, 7330 North Santa Monica Boulevard in Fox Point, Wisconsin. Click here for a Bing map and directions.
Our meetings are always open to members and anyone who has an interest in railroad history or today's railroad operations. No admission fee is charged.
We stream our meetings via Zoom for the benefit of anyone who cannot attend in-person. To be advised of Zoom connection information, and to receive occasional chapter updates, become a member today.
---
Upcoming meetings:
Friday, June 2, 2023, 7:30 PM CDT - The Railroad Photography and Collections of Rod Robinson presented by Dave Nelson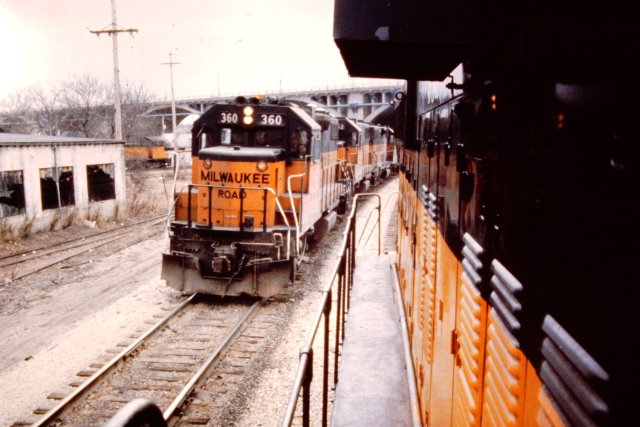 Milwaukee Road Wauwatosa Patrol view from the cab at Grand Avenue. Photo by Rod Robinson
Until his tragic death in a motorcycle accident, Rod Robinson (1949-1999) enjoyed a 33 year career with the Milwaukee Road/Soo Line/Canadian Pacific as hostler, engineer and crewman. He often had his camera along with him at work, and insisted that it was "pure coincidence" that by some mysterious means, interesting locomotives and rolling stock at the Milwaukee Road shops tended to be parked in the best possible locations for photography.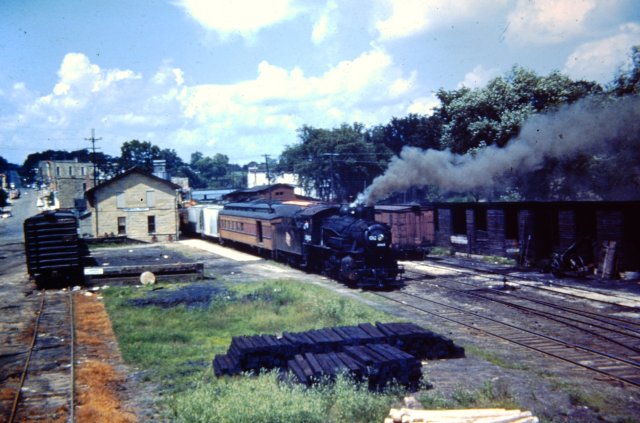 Milwaukee Road in Mineral Point, Wisconsin, 1954. Photo likely by Russ Porter
Rod befriended a number of outstanding Milwaukee and Midwestern rail photographers and arranged with them to offer good duplicates of some of their best work. He was a familiar sight at train shows and model railroad swap meets selling his boxed sets, never loose slides, and he took pride in the quality of most of these duplicates. Documentation was usually thorough but because these photographers came from an era of rampant slide-swapping, and because even basic information could be lacking, it was not always possible for Rod to know exactly whose slide he was dealing with, much less when or where it was taken. He would add whatever caption information was within his own knowledge or that of his friends.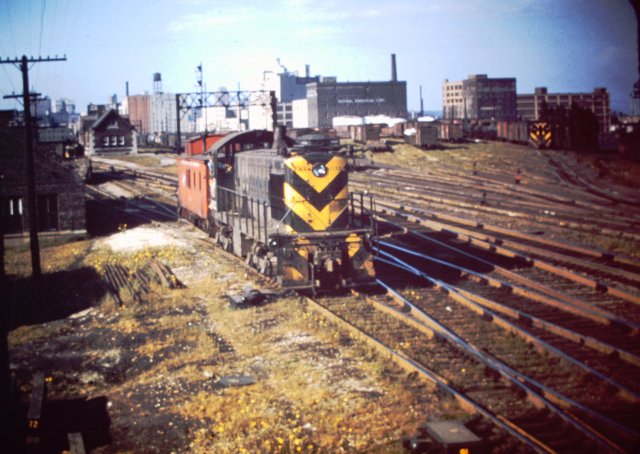 Chicago & North Western at National Avenue, Milwaukee. Photo by Earl Ruhland, L Sukup collection
Rod once told David Nelson that he was one of his best customers: Dave purchased over $1000 worth of slide sets from Rod, and as a tribute to his late friend he has scanned his personal favorites and put together a "sampler" program of Rod's own photography and collection, as well as images taken by (or from the collections of) Russ Porter, Earl Ruhland, Owen Leander, Bob Gibson, Lew Martin, Kermit Bast and others. Topics include Milwaukee Road, Soo Line, North Shore, Milwaukee Electric, Milwaukee's car ferries, and a few surprises.
If you are able, please attend in person at our regular meeting venue in Fox Point; doors open before 7:00 pm. Those who cannot attend in person are encouraged to download the latest version of Zoom software to their computers (or tablets, or smartphones) to attend virtually. ADVANCE REGISTRATION IS REQUIRED to access this event remotely; connection info will be posted here a day or so prior to the meeting. Contact membership (at-sign) nrhswis (period) org with any questions.
---