Wisconsin Chapter, National Railway Historical Society
Wisconsin NRHS is a chapter of the National Railway Historical Society.
The NRHS was founded in 1935 by a group of rail historians. It has since grown from 40 founding members to include thousands of men and women of all ages and professions in every state and many foreign countries, making it the nation's largest rail preservation and historical society. More information about NRHS may be found at www.nrhs.com.
The Wisconsin Chapter was founded in 1950. Our purpose is to gather, preserve and disseminate information, both historic and current, pertaining to railroading in Wisconsin and the Upper Midwest.
The chapter holds membership meetings on the the first Friday evening of the month (excepting June, July and August) in Fox Point, just north of Milwaukee. Meeting programs are presented by leading local railroad historians, photographers, enthusiasts, and people involved with the railroad industry. Meetings are always open to the public, and no admission fee is charged. Click the "Meetings" menu for details on our next meeting.
Follow the Wisconsin Chapter on Facebook and visit the chapter's channel on YouTube.
---
Wisconsin Chapter meetings are held on the first Friday of every month (except June, July & August), at 7:30 p.m., in the lower level meeting room of the North Shore Congregational Church, 7330 North Santa Monica Boulevard in Fox Point, Wisconsin. Click here for a Bing map and directions.
During the coronavirus pandemic, we held our meetings remotely, online. We will endeavor to continue to stream our meetings via Zoom for the benefit of anyone who cannot attend in-person. To be advised of Zoom connection information, sign up for our email announcements. Just send your request to president (at-sign) nrhswis (period) org.
Our meetings are always open to members and to anyone who has an interest in railroad history or today's railroad operations. No admission fee is charged. If you find yourself aligned with the goals of the chapter, please consider joining.
Upcoming meetings:
Friday, June 3, 2022, 7:30 PM CDT - A 50-Year Retrospective by Mike Yuhas.
Mike Yuhas took his first railroad photograph as a youngster in 1972. Who'd a thunk that fifty years later, that image would be projected large at the Wisconsin Chapter NRHS June meeting. Hundreds of other railroad pics documenting some of Mike's five decades of railroad photography will also be shown.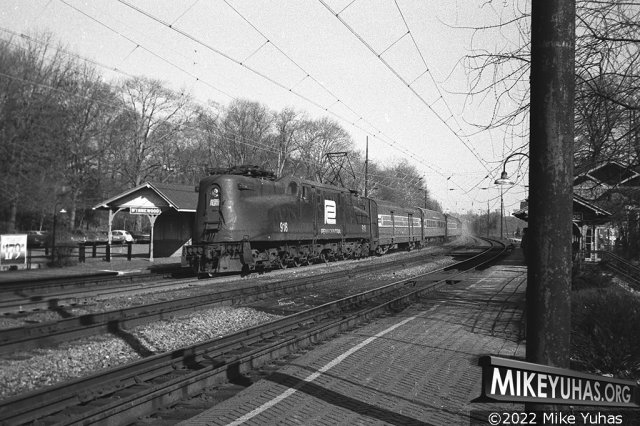 A Westbound Amtrak train at Wynnewood, Pennsylvania, February 1974. Photo by Mike Yuhas.

This program will be presented live at our regular meeting place in Fox Point and streamed over the Zoom platform. ADVANCE REGISTRATION IS REQUIRED to access this event. The meeting accrss info will be available here toward the end of May.
---
Tuesday, June 21, 2022, 7:30 PM CDT- Online Slide Show
Wisconsin Chapter NRHS holds alternate-month online slide shows on the Zoom platform.
Join us for the Chapter's online slide show! Less formal than a regular meeting, these online events feature the work of five railroad photographers, each presenting a 15-minute slide show on a variety of railroad subjects.
The presenters for tonight's event will be posted here shortly.
This program will be presented remotely, over the Zoom platform. Connection information will be posted here in early June.
---