Wisconsin Chapter, National Railway Historical Society
Wisconsin NRHS is a chapter of the National Railway Historical Society. 
The NRHS was founded in 1935 by a group of rail historians. It has since grown from 40 founding members to include thousands of men and women of all ages and professions in every state and many foreign countries, making it the nation's largest rail preservation and historical society. More information about NRHS may be found at www.nrhs.com.
The Wisconsin Chapter was founded in 1950. Our purpose is to gather, preserve and disseminate information, both historic and current, pertaining to railroading in Wisconsin and the Upper Midwest.
The chapter holds membership meetings on the the first Friday evening of the month (excepting May, July and August) in Fox Point, just north of Milwaukee. Meeting programs are presented by leading local railroad historians, photographers, enthusiasts, and people involved with the railroad industry. Meetings are always open to the public, and no admission fee is charged. Click the "Meetings" menu for details on our next meeting.
Follow the Wisconsin Chapter on Facebook.
---
November Hop Presentation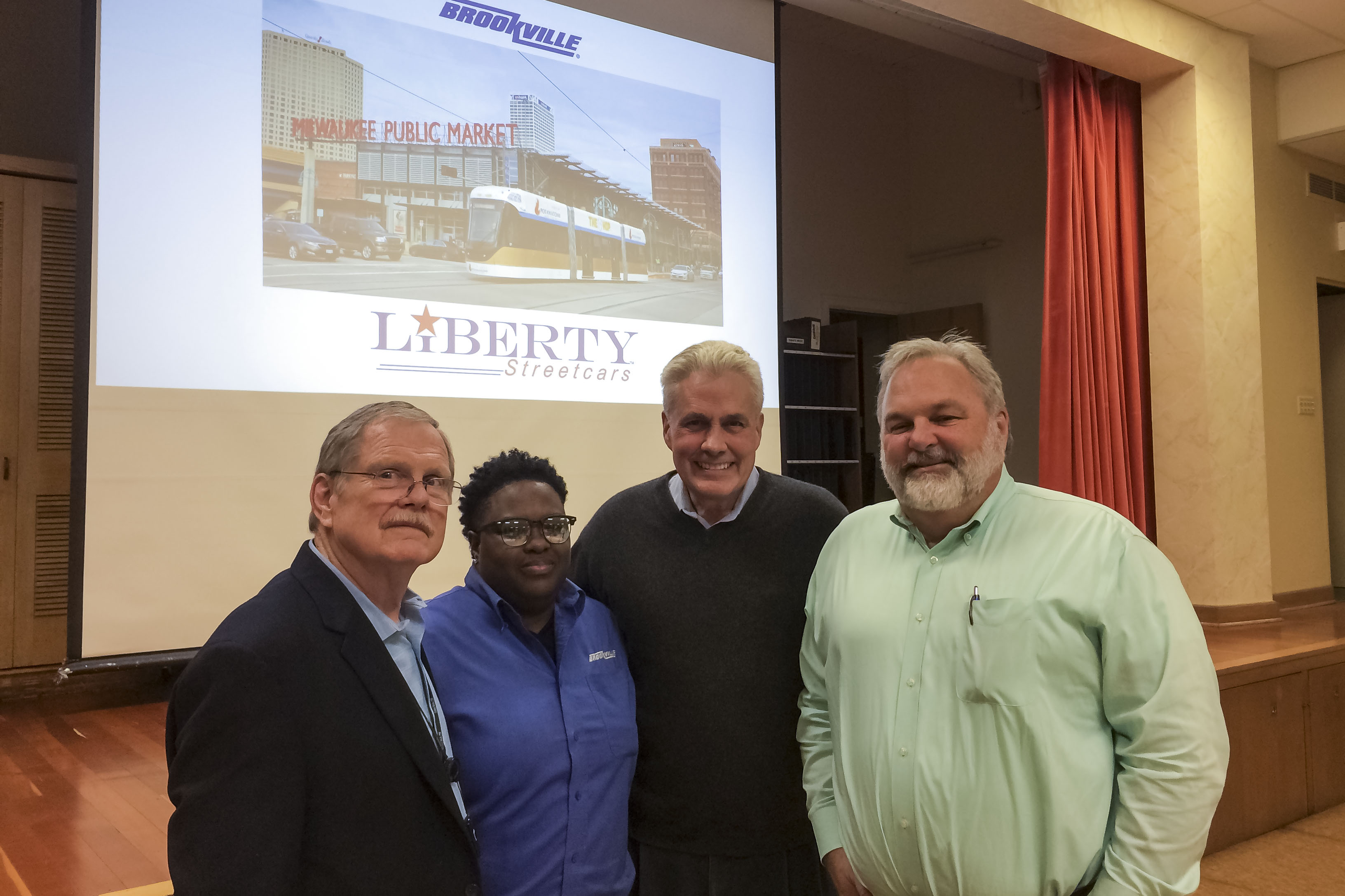 The November 2019 NRHS Wisconsin chapter meeting featured an informative program by people involved with Milwaukee's modern streetcar, The Hop, on the first anniversary of service to the downtown area. We heard from Terry Mulcahy, general manager of Transdev's Milwaukee operations; Alisha Adaway, Brookville Equipment Corporation's maintenance manager for Hop vehicles, and Milwaukee alderman Bob Bauman. They are shown here with chapter president Mike Yuhas. Photo by Dan Grudzielanek.