Wisconsin Chapter meetings are held on the first Friday of every month (except May, July & August), at 7:30 p.m., at the North Shore Congregational Church, 7330 N. Santa Monica Boulevard in Fox Point, Wisconsin. Click here for a Bing map and directions.
Upcoming meetings:
Friday, April 5, 2019 - Join us for a program featuring the photography of Wallace W. "Wally" Abbey, former Trains magazine staff member and Soo Line and Milwaukee Road public relations executive. The images come from the 2018 book "Wallace W. Abbey: A Life in Railroad Photography," from Indiana University Press and the Center for Railroad Art & Photography (CRPA). Our presenter is Kevin P. Keefe, a CRPA board member, who co-authored the book with Scott Lothes, CRPA executive director. The program will cover Wally Abbey's entire career as a photographer in the steam and diesel era, from his early photos of the Santa Fe, through his work for Trains in the 1950s, through to his years at Soo Line and the Milwaukee Road. The book is a testimonial to Abbey's bold, inventive approach to making train pictures.
Keefe worked for 29 years for Kalmbach Publishing Co., including eight years as editor of Trains.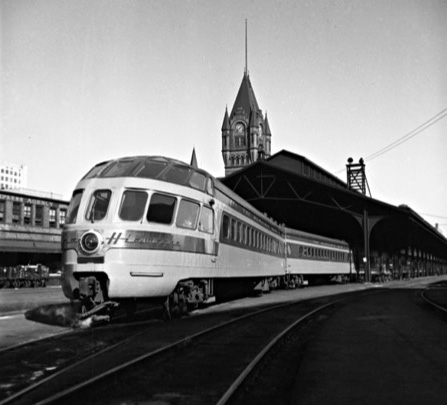 A Skytop lounge on the back of the Morning Hiawatha at Milwaukee in 1951.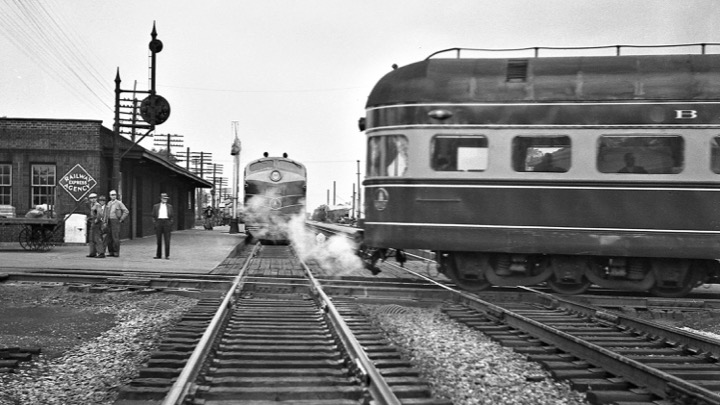 B&O's northbound Cincinnatian at Deshler, Ohio, in 1952, as a train on the east-west main waits to be cleared.
Photos by Wallace W. Abbey, collection of the Center for Railroad Photography & Art, www.railphoto-art.org.
---
Saturday, May 4, 2019 - annual chapter banquet
2019 Chapter banquet features Norm Carlson
Mark your calendar for the social event of the year: the 2019 Wisconsin Chapter annual banquet. We're back at Meyer's Restaurant in Greenfield on Saturday, May 4. Arrive at 5:00 pm and enjoy fellowship and a cash bar; a family-style dinner of comfort food will be served at 6:00pm.
After we've had our fill of beef tips, broasted chicken, mmm-mashed potatoes and more, Norman Carlson will address the group. Norm is the president of the Shore Line Interurban Historical Society and the chairman of Metra, Chicago's commuter railroad. He will present a program on Metra, its successes and challenges, history and plans, operations and political considerations. Mr. Carlson's unique position as both a student of railroad history and Metra chair will make this a lively and memorable presentation:
"On Track to Excellence and Regional Vitality"
This is Metra's 35th Year. Railroading is a 24/7 outdoor sport. Each weekday Metra moves a number of people that is equal to the population of Naperville (142,000) in a service territory that is equal in size to Rhode Island and Delaware combined. Adequate funding is one of Metra's greatest challenges. Mr. Carlson will discuss what Metra has done to meet those challenges, its capital programs and vision for the future to enhance service to the public and regional vitality.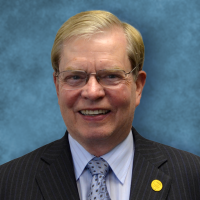 About our speaker: Norman Carlson was appointed to the Metra Board of Directors in April 2013, and was elected Chairman in October 2016. Mr. Carlson spent 34 years with Arthur Andersen Co., appointed North American Rail Industry Head in 1985 and Worldwide Managing Partner of the Transportation Practice in 1990. He served in that capacity until exercising the early retirement option in 2000. In 2000 he formed Carlson Consulting International, serving as a short-term executive in challenging situations including as non-executive chairman of RailWorks during its successful bankruptcy reorganization. Mr. Carlson is active in supporting Catholic Charities with a focus on veterans programs, a member of the Business Advisory Committee to the Transportation Center at Northwestern University, moderator of the monthly railroad discussion group at Northwestern, and pro bono advisor to the City of Lake Forest on transportation matters. Mr. Carlson is a graduate of the University of Illinois with a BS of Accountancy degree and is a certified public accountant. He served as a U. S. Army Infantry officer in Vietnam and was awarded the Bronze Star for meritorious service.
Banquet price is $22.50 for NRHS members and guests. There is a strict limit on number of attendees; please make your reservation early to avoid disappointment.
Annual Chapter Banquet • Saturday, May 4, 2019 • Cash bar 5:00 pm • Dinner served 6:00 pm
Meyer's Restaurant, 4260 South 76th Street, Greenfield • Click here for a Bing map and directions.
More info: Mike Yuhas, This email address is being protected from spambots. You need JavaScript enabled to view it., 414-698-6625
$22.50 per person. Make checks payable to Wisconsin Chapter NRHS and mail to Tom Hoffmann, 1102 Aspen Drive, Waukesha WI 53188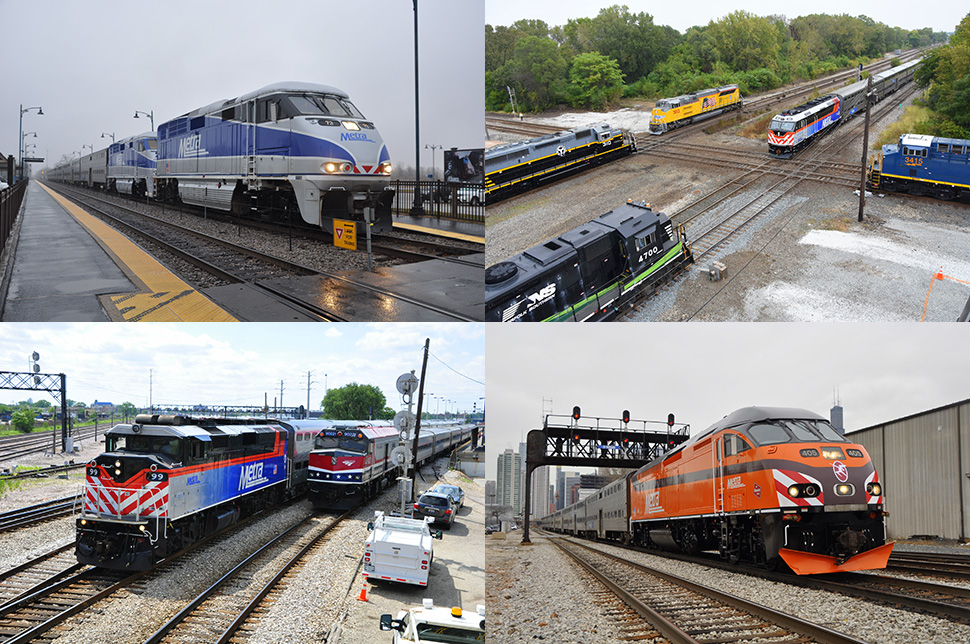 Photos for Metra by Mark Llanuza.
---
Friday, June 7, 2019 - Over the years, dozens of accomplished railroad photographers have presented Wisconsin Chapter programs. For our June meeting, we're going to expand our horizons a bit and welcome transportation photographer Lou Gerard. He says "the problem is, I like everything!" - including railroads (and rapid transit), lake boats, and commercial and military aviation. 
Lou's favorite railroads were Soo Line and Chicago South Shore & South Bend, and they'll figure prominently in his program, along with other railroads, local and not-so-local. "Traction is a very large interest of mine, from streetcars to GG1s," so expect to see plenty of electric railroading, too. 
In addition to trains, Lou's been photographing Great Lakes freighters for over 45 years, "especially ships like St. Marys Challenger, which I was fortunate to have made 9 trips on." 
All this adds up to a lively and interesting presentation, our last before the summer break. Join us!
Soo 2203-A at Wheatland, Wisconsin, on train 943, June 1978.
 South Shore 801 and 803 at Burnham Yard, March 1976.
 St. Marys Challenger at Milwaukee, July 12, 2012.

Photos by Lou Gerard. 
---
Friday, September 6, 2019 - Our annual Members' Favorite Slide Night.
---