Wisconsin Chapter meetings are held on the first Friday of every month (except June, July & August), at 7:30 p.m., in the lower level meeting room of the North Shore Congregational Church, 7330 North Santa Monica Boulevard in Fox Point, Wisconsin. Click here for a Bing map and directions.
Our meetings are always open to members and to anyone who has an interest in railroad history or today's railroad operations. No admission fee is charged. If you find yourself aligned with the goals of the chapter, please consider joining. 
Upcoming meetings:
Friday, October 1, 2021 - Railroad mayhem evening.
First up is Chris Barney, who has spent years researching the 1924 St. Francis Avenue grade crossing collision. His program is entitled "Delivering very bad news."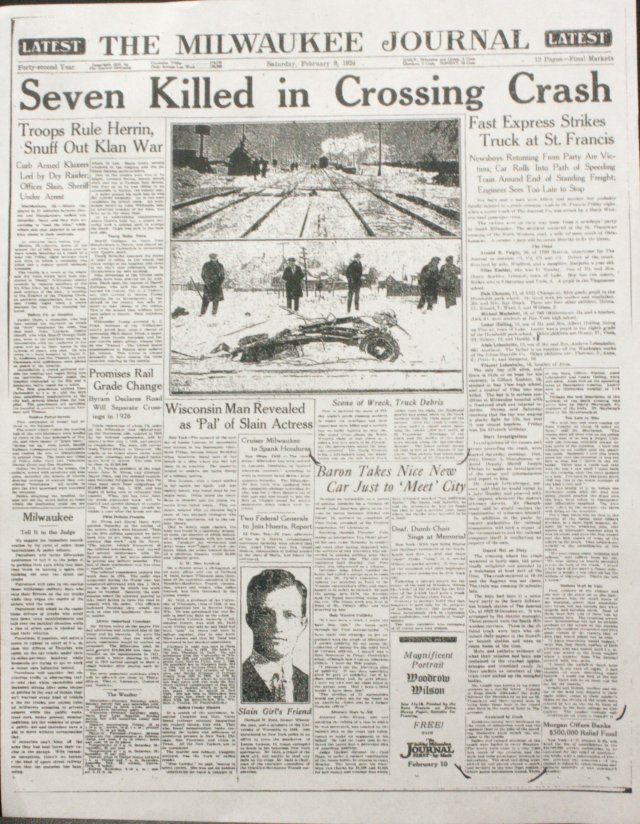 Even after nearly a century, reading the account of this tragedy still elicits great sadness.  It was Friday, February 8, 1924, and seven "newsies" - Milwaukee Journal carriers - were being driven home by a supervisor when, attempting to cross railroad tracks not protected by a signal, warning lights or a watchman, their truck was rammed broadside by a speeding C&NW passenger train, killing the driver and six of the seven newsboys. The massive loss of life sparked an inquest and a renewed call for safer crossings. 
The second half of the meeting will feature former chapter president Dave Nelson presenting a program recounting another tragedy. In South Milwaukee at 6 pm of the evening of November 13, 1907, Chicago & North Western No. 18, a fast train heading for Chicago, plowed into a crowd of workers from the Bucyrus steam shovel factory who had left work, killing six (one of whom was a 10 year old water boy at the factory). Five others were injured, one woman evidently fatally, by being hit by flying body parts. "Men Ground to Pieces" was one newspaper headline. Dave has spent years trying to sort out the conflicting versions of this tragedy found in contemporary newspaper accounts, and will try to reconstruct as much as possible the scene of the incident using old and new(er) photographs of the scene.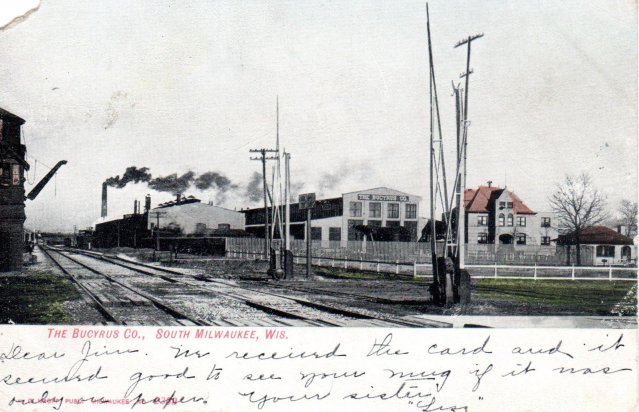 ---
Friday, November 5, 2021 - The Weed Route, with Alan Freed.
Additional information will be forthcoming.
---
Friday, December 3, 2021 - David P. Morgan's Milwaukee by Kevin P. Keefe.
In a program originally put together for the NRHS national convention, Kevin Keefe takes us on a tour of Milwaukee railroad scenes in the years when David P. Morgan was a young editor at Trains magazine, mostly in the late 1940s and 1950s. The images are culled from both Classic Trains magazine as well as the Kalmbach library, and feature such familiar locations as the Milwaukee Road and North Western downtown depots, the North Shore station, the Beer Line, TM streetcars and interurbans, and the CMStP&P West Milwaukee shops. We'll join "DPM" at Kalmbach's offices at 1027 N. Seventh Street at the end of a work day and head out across town to see what there is to see. Steam, diesel, traction — the trains that made Milwaukee famous.
---